When she was a psychology student at the University of Melbourne, Ms Vernetta Fong would frequent farmers' markets and cafes, dreaming of the day she would open a cafe of her own.
Her dream came true last month when she opened a small cafe at the new Margaret Market in Queenstown. Called Urban Folks, it sells DIY acai bowls and "jaffles" (Australian-inspired toasted sandwiches).
Said the 28-year-old: "During the tendering process (for Margaret Market), when they shared the farmers' market concept, I was so excited to be part of it."
Business has been better than expected, with a lunch crowd on weekdays and people coming from the nearby church on weekends, she added.
The new Margaret Market – a revamped two-storey modern space with food, produce, and fitness and health services – officially opened on Tuesday.
Its distinctive barrel-roofed building is part of the former Commonwealth Avenue Wet Market and Food Centre that was built in 1956 and opened in 1960.
The market, the only remaining one built by the Singapore Improvement Trust, was gazetted for conservation by the Urban Redevelopment Authority in 2014.
Margaret Market, which is located next to Margaret Drive Hawker Centre and a five-minute walk from Queenstown MRT station, supports local small businesses and first-time vendors by renting out shop spaces to them.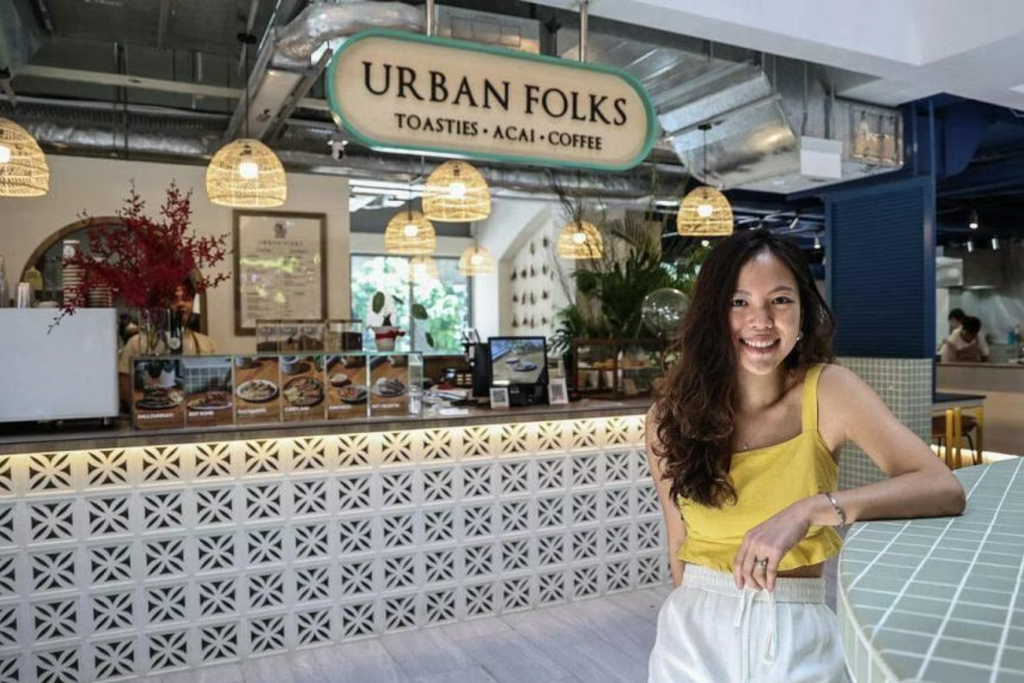 There is also Margie, a craft beer bistro bar serving local tacos; fresh fruit and vegetable supplier Cu.Ra.Te; dessert parlour Creamier; and Ya Kun Kaya Toast.
Patrons can dine in a communal space inspired by farmers' markets.
The market will have free health screenings for Singapore citizens and permanent residents aged 60 and above on the first Saturday of each month from September. Its health and wellness facilities include Bethesda Medical, Fung Onn Medical Store and Gymm Boxx, a 24-hour open space gym.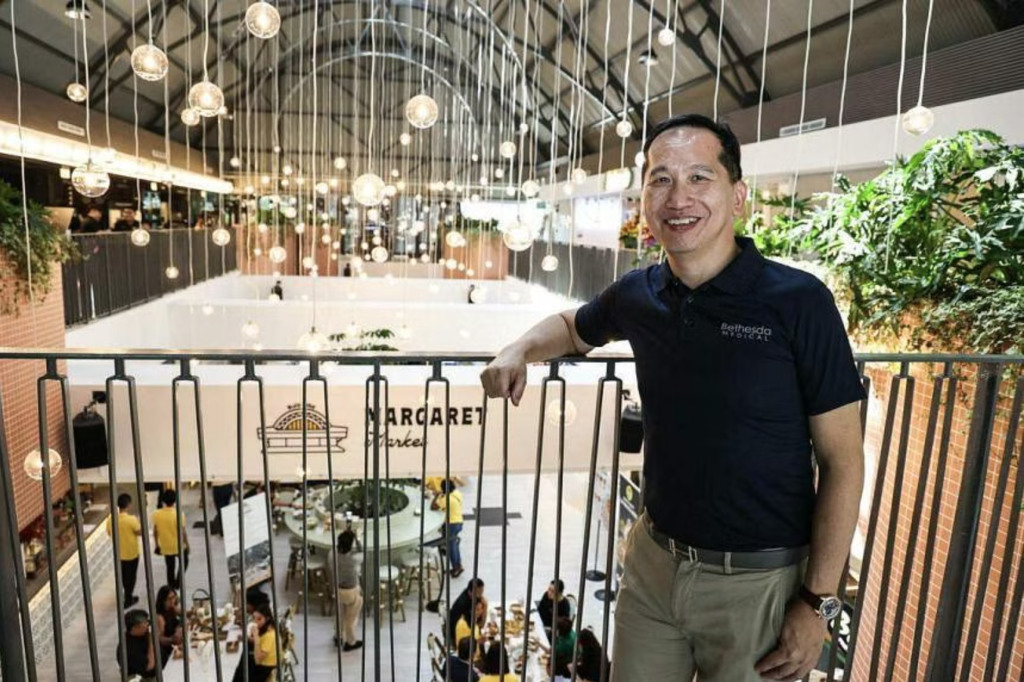 Dr Stephen Tong, chief executive of Bethesda Medical, was part of a team that helped curate Margaret Market. He said he wanted to support local small businesses and help those affected by the Selective En bloc Redevelopment Scheme exercise at Tanglin Halt to preserve their trade.
One of them is Fung Onn Medical Store.
Though grateful for the opportunity to run his business again, its owner and TCM physician Chee Kim Boon said business has not been as good, as some customers are unable to locate the store, and he has to rebuild relationships with new ones.
"I feel excited but also a bit sad because business is not like last time. Our trade does not have high profit margins and is seen as a sunset industry," he said.
Mr Johnson Ong of The Homme Baker is more optimistic, saying business has been good since the cafe's opening a few weeks ago, with many young families from the new Build-To-Order flats nearby coming to buy its cakes.
The Homme Baker is one of the local brands and home bakers and cooks taking up a physical space for the first time. Mr Ong, 48, used to run it as a home-based business, selling artisanal cakes with a baker friend on Instagram and then Shopify in 2020.
"Customers were asking us when we will have our physical store. Working out of home is not ideal; we really wanted to reach out and produce quantities," said Mr Ong, who also runs a digital marketing agency. "We already developed a brand and kind of had a following already. So this was the next logical step."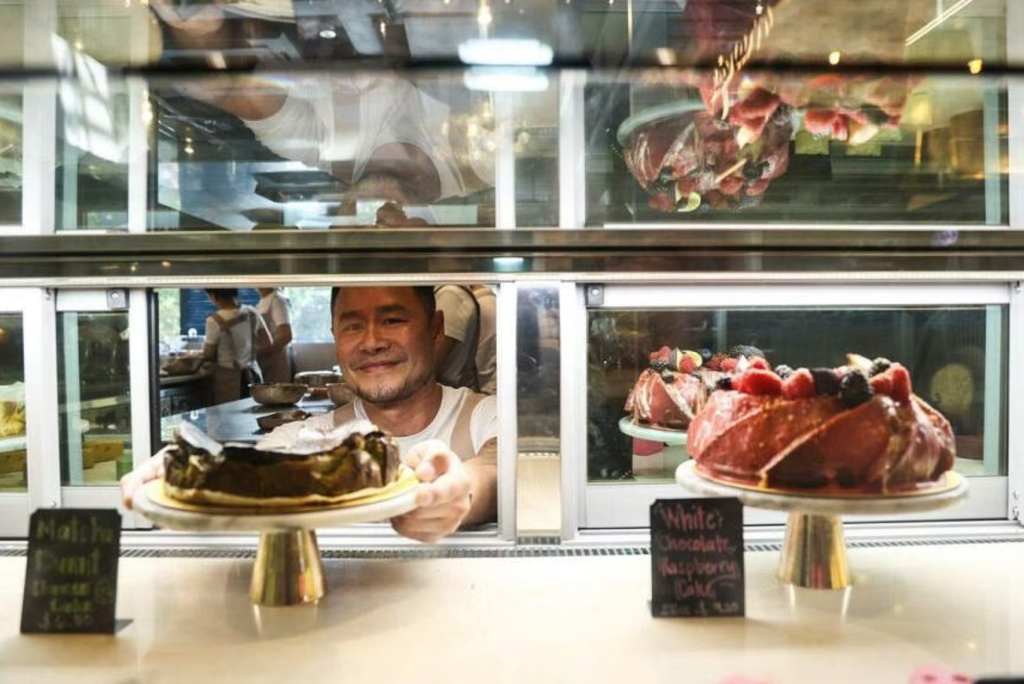 Minister of State for Culture, Community and Youth Low Yen Ling said at the opening of Margaret Market that local neighbourhood markets serve as a microcosm of Singapore's multicultural society, and the reopening of the building invigorates the Queenstown estate.
"We really want to build an incubator and accelerator that can help us to incubate local brands, F&B and retail brands," said Ms Low, who is also Minister of State for Trade and Industry.
Having new local brands at Margaret Market will give them a leg-up in terms of rental, market traction and access to a densely populated area, she added.
She said that the Government launched the $50 million Our Heartlands 2025 programme last year to digitalise and revitalise heartland shops, and noted that nine in 10 heartland enterprises offer e-payment today.
"I sincerely believe that this very innovative and fresh concept of the local market will bring residents physically together right here at the heart of this estate (and) become the heart of the thriving heartland entrepreneurship," she said.